We've seen people making the most of their time at home during lockdown, with plenty of folks getting creative in the kitchen to make delicious meaty meals. Making use of their butchers knives, people all over the country have been concocting fantastic feasts without blowing their budget. So, with your butchers equipment equipped, why not try your hand at these 5 meat-based dishes you can make on a budget?
1. Beef Stroganoff
Originating in Russia, the deliciously unique flavour of the humble Stroganoff, has made it a popular dish all over the world. Its flexibility makes it perfect for anyone on a budget, with the sauce going perfectly with either rice or pasta. Furthermore, the stroganoff sauce works beautifully with many cuts of beef, whether you're a fan of a ribeye or more of a sirloin person. This is where a bit of expert knowledge comes in handy – if you're a professional butcher yourself, you'll easily be able to identify the best beef to go with your meal, and if not, don't hesitate to ask your local one which cut they would recommend, so that you're certain to get the most succulent beef to complement the sauce, making for an absolutely delectable dish.
2. Home-Made Burgers
If you miss getting your teeth into those big, juicy restaurant burgers, then why not have a go if creating your very own?  Grab some freshly minced beef, some dried herbs and egg yolk and make a patty to the size of your liking. Once you've got the burger made, you can then get really creative with your meal. Add your favourite cheese, your favourite sauce, a few strips of bacon and some salad and you've got your very own gourmet burger. Better still, with your butcher's machinery at the ready, you might even be able to grab some ready-made patties from your local butcher, making this budget meal even easier for you to make. Why not start practicing your burger making skills now, so when summer comes along, you'll be the undisputed king or queen of the barbecue!
3. Tikka Masala
It's England's national dish – the quintessential curry, the tikka masala. Traditionally served with chicken, but why not add your own twist to this flavoursome dish with other cuts of diced meat, whether you prefer lamb, or you love your diced beef. The rest of the dish is simple and cheap too! Grab your knives, dice the meat of your choosing, cook it in a blend of masala, cumin, coriander, and turmeric, and finish in a tomato-based sauce. Serve with rice and a side of naan and you'll have your very own tikka masala dish. A staple of pub grub and the very best of British cuisine, why not add this to your homemade menu and leave your friends and family wanting seconds.
4. Sausage Casserole
Who doesn't love a good, hearty casserole? The perfect meal to warm you up during the cold and wet Winter months, but equally delicious all year round, this classic one-pot dish can be made with minimal effort and won't leave a hole in your wallet. Head down to your butchers, grab the sausages of your preference, be it plain, Cumberland, Lincolnshire, or any other, and then slice up some potatoes, onions, and carrots. Throw them in a slow cooker with some vegetable stock, add some herbs and spices and simply wait. Give it a few hours and you'll have a succulent meal that's overflowing with flavour.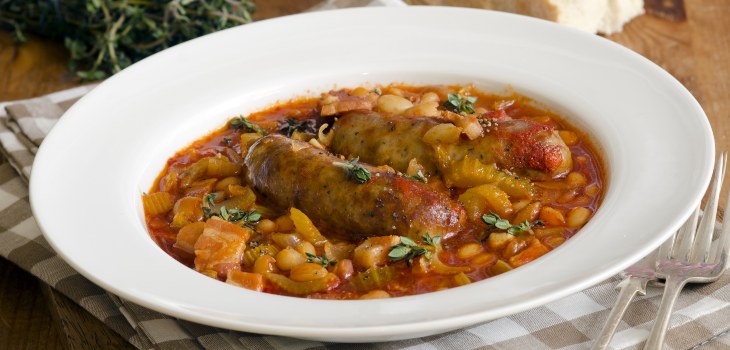 5. Moussaka
This final meat-based delight is straight from the Mediterranean cookbook. The moussaka is perhaps best described as the Greek iteration of shepherd's pie. Lamb is the customary meat of choice for this Grecian dish, but beef and chicken will taste just as delicious if you want to add your own spin to it. Better yet, you can ask your butcher for the meat to be either minced or diced as both will work just as well. The rest is easy, get your meat cooked, layer some thinly sliced potatoes on top, add a creamy béchamel sauce on top, and cook. Greek cuisine made easy!
And if you're looking for some of the best butchers knives and tools to help you prepare the meat itself, you're in exactly the right place. Here at Butchers Equipment Warehouse we stock a huge range of butchers knives and sharpeners, as well as a broad choice of butchers blocks and stands, ideal for any private or commercial kitchen. If you need any advice or you're looking for anything in particular, don't hesitate to give us a call on 01254 427761. We're here to help!