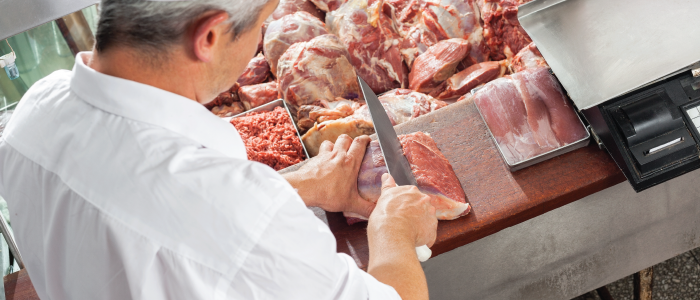 Despite the common pop culture image, if you're an experienced butcher you'll already know that being a successful butcher is about more than just chopping meat. There's no denying that food preparation is a huge part of the job, but from the outside it can be easy to underestimate the less-publicised but still vital elements of the job, such as the customer interaction and the presentation skills. Below, we've summed up some of the most essential skills you need to become the most successful butcher you can. It's worth a read even if you've got some experience under your belt already - you still might learn something!
A safety-conscious mindset and awareness
There's a good reason we've covered this one first - as with any food preparation job, it's perhaps one of the most important skills you can have. It's important to bear in mind aspects like cross contamination, which can happen all too easily, and end up making customers very ill. And customers who've become ill generally never come back! This safety-conscious and proactive mindset towards hygiene and cleanliness, therefore, is never optional (and should be regularly reinforced, especially if you have any junior butchers in the shop).
Excellent hand-eye co-ordination, spatial awareness and judgement
The reasons for these ones are probably quite obvious, really. They're categorised under the more essential practical butchery skills - you'll be chopping, slicing and cutting quite a lot throughout your normal working day as a butcher, so you'll need to practice enough caution to avoid slicing your fingers off. It's true that some people are naturally better at these than others, but they are certainly something that can be improved over time. As ever, it's about starting slowly, and practicing often. Here at Butchers Equipment Warehouse we stock a range of chainmail gloves, which can make the job even easier and give you peace of mind while doing it.
Stamina and physical strength
The conditions of most butcher's shops aren't exactly gruelling, but they can certainly be quite challenging environments if you're not properly prepared for them. Although various butcher's machinery is often used, such as mincers, most of the preparation is done by hand, so you'll be spending a lot of your time standing or moving around, carting meat back and forth.
Brilliant customer service and a knowledge of provenance
Butchers interact directly with customers on a regular basis, and in order to provide top-tier customer service, you need to have detailed knowledge of the meat, all its various aspects and qualities, and how it's going to meet their requirements. Some customers will be very particular about the meat they require, so you'll need to know what to recommend in those cases. Many common examples of these revolve around customers of various faiths; Halal and Kosher meat must be prepared in specific ways according to the customs of Islam and Judaism respectively, so butchers must be well-versed in which meats are appropriate to recommend.
An eye for presentation
Following on closely from our last point, as well as actually cutting the meat, another big part of it is actually presenting it to customers. It's about far more than just resting it on a platter - it needs to be arranged, presented. Spending all the time in the world cutting it will all be for nothing if it doesn't look appealing. After all, if the customer doesn't like the look of it, typically they will not buy it!
Mental arithmetic skills and attention to detail
Butchers need a basic level of maths in their job, mostly for weighing and dividing slabs of meat. It's true that many of these processes are computerised now, but as any IT specialist will tell you, it's not wise to rely on machines 100% of the time! They can crash, or get damaged, or simply not start up, so as a professional butcher you need to stand on your own two feet, as it were. As for attention to detail, butchery positions need this for keeping their butchers equipment sharp, remembering to hone their knives, and keeping up hygiene standards - amongst other things!
A teamwork-oriented ethic and drive
The shape of the industry in today's world means that most butcher's shops operate with small dedicated teams under the leadership of one central owner or manager. Alternatively, they're in supermarkets (increasingly the refuge of the modern butcher), which requires working in teams of two or more on the front counter. It's not a lone man job, so knowing the best ways to work with others is essential.
An interest in meat preparation and food in general
This tends to be something that applicants for butchery jobs have already rather than something they'll need to brush up on, but it's worth mentioning anyway. After all, if the applicant isn't 100% interested in the job, their future in it is likely to be a reasonably grim one. Besides, as we mentioned above, an interest in food does a lot of the hard work!
You may have noticed we've missed off a couple of key aspects in this post - but we go into specific knife skills in a separate blog! Of course, all the skills in the world will make very little difference if you're not properly equipped with the right butchery equipment, and that's where we come in. Here at Butcher's Equipment Warehouse we have a wide range of butchery equipment, from butcher's knives all the way up to mincers and bandsaws. Why not take a look around and see what we've got in stock? If you're looking for something specific, you can always give us a ring on 01254 427761, and we'll be only too happy to help!