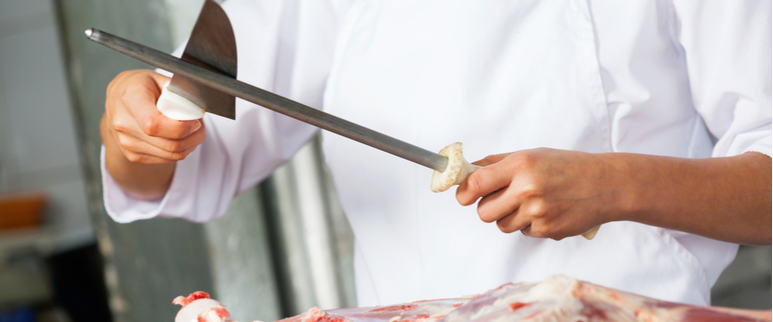 As we approach the Christmas season your butcher's knives might soon be working overtime to keep up with the demand in your shop! But, no matter what time of year it is, you'll need sharp and reliable knives to keep your workflow efficient and operating smoothly.
Depending on the size of your shop and the amount of work you do every day, you might be wondering how to pick the best knife sharpening tool for your needs.
To help, we'll be breaking down all the different knife sharpeners styles we carry and will give you a bit of insight into where they work best!
Knife Steels
The most common type of tool used to maintain the sharpness of knives is the trusted and true butchers steel! Now there are a few things you'll need to consider before purchasing a butchers steel.
First, you'll need to check the hardness of the knife you own and then select the appropriate steel. For harder blades, you may need to select a ceramic or diamond steel, for most knives a simple steel rod will work! Be sure to select the right grit for your steel as they come in a standard for hard cut sharpening, fine grit for maintaining a sharp edge on the chef or other professional-grade knives, and ultra-fine for honing the edge to a more polished state.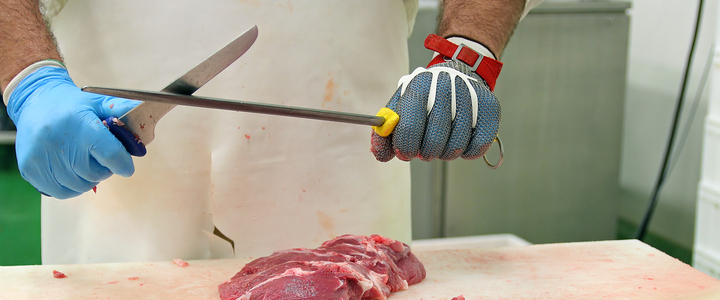 You'll also need to consider the shape of the rod and choose accordingly. Most knife steels come in round (generally the lightest), oval (best for beginners), flat (fast, easy, simple, but it's heavier than the other), and occasionally square (has two levels of sharpening). Be sure to select the best one for you!
The biggest benefit of this tool is you can usually carry a knife steel around with you or have it tied to your apron or belt without weighing it down too much.
Knife edge tools
A knife-edge tool is a quick and easy away to sharpen your blades! A knife-edge tool can sharpen or polish your blades simply by running them between the rods.
We stock several types of knife edge tools from trusted brands like F Dick, Bobet, Chantry, and Cozzini. Some of the models we stock can be used as a hand-held tool while others can be easily mounted to existing butcher shop equipment or to a wall.
No matter which of these tools you select you can rest easy knowing you'll get the perfect edge in seconds which is ideal for larger meat processing lines.
Electric knife sharpeners
As we've previously covered in our blog about the differences between honing vs. sharpening electric knife sharpeners are an effective and reliable method for keeping your blades in perfect working order.
All you'll need to do to get a perfectly sharp knife is to simply plug the sharpener into the mains and place on the work surface. Then, when operating, simply slide the knife through the openings in the sharpener. And you're done!
Sharpening stones
As we've said in our introduction to knife sharpeners, sharpening stones can work quite well but may take a bit more time as you'll have to first clear the workspace and keep your area clear from any obstacles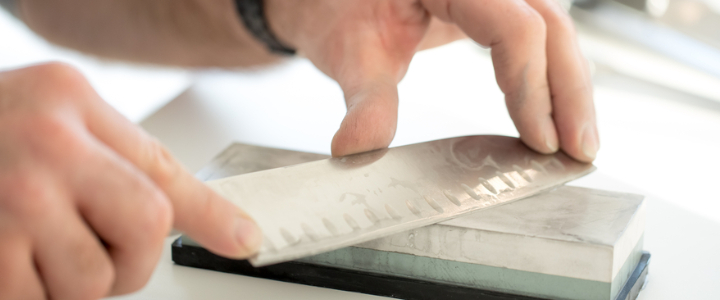 Unlike most of the other methods we've listed, you'll likely need to pass the knife blade over the stone about 10 times before it's perfectly sharp. Some butcher shops prefer this method of sharpening because it's how they've always done it!
Depending on your personal style, the safety rules at your butcher shop, or how you process meat you may find one method of sharpening to be better than another. We recommend you try them all at least once before deciding which works best for you.
And remember if you need a new knife sharpener or are looking for knife sharpener spares we've got you covered!
At Butcher's Equipment Warehouse, we stock a range of reliable butchers knife sharpeners to meet your needs! With us, you'll find everything you need to keep providing top-quality meat while operating at peak efficiency. And if you've got any questions or need any advice, feel free to give our friendly team a call on 01254 427721.