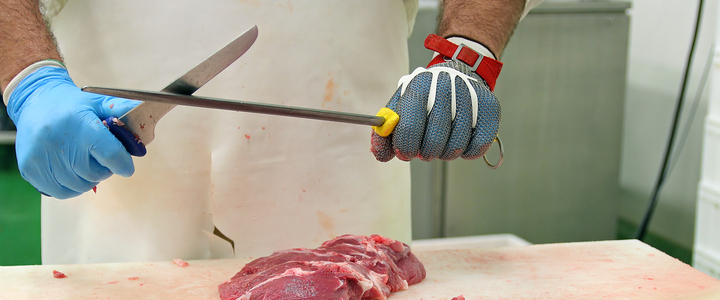 It's a question that's long plagued professional chefs, home cooks and butchers alike. Wooden chopping boards and butchers blocks have centuries of history and use behind them, there are increasing numbers of people who strongly favour using plastic versions instead. However, we'll not hang around on the fence here at Butchers Equipment - we're all for wooden chopping boards, every time. This is for several reasons, but the first and foremost is the most important; they've been proven to often be more hygienic than their plastic counterparts.
Part of the reason why wooden chopping boards are so hygienic is that they exhibit actively antibacterial properties. This is supported by research from a team at the University of Wisconsin, who tested an extensive range of both wooden and plastic chopping boards from different materials. They used three types of serious bacteria, including E. Coli, Salmonella and Listeria, and found that wooden chopping boards provided outstanding results every time.
Durability
A common misunderstanding when it comes to chopping boards is that because wood is a porous surface and plastic isn't, that means they're more resistant to bacteria. However, some people forget that durability is another attribute that has to be factored in. The problem with cheaper plastic boards is that they can scar quite easily when used with sharp cutting implements like butcher's knives, which can obviously become a problem quite quickly. Since this damage accumulates over time, these plastic boards can quickly become pitted and damaged over time, creating a rough surface which can host a significant amount of dangerous bacteria. It can also make the surface more difficult to effectively clean.
With wood on the other hand, this incremental damage doesn't develop as quickly, since wood has a bit more natural give in it, and therefore won't ruin your knives. Basically, its ability to stay perfectly intact for longer makes it much easier to clean.
Longevity and self-healing ability
As well as short term durability against impacts, wood has long-term longevity too. High quality wood chopping boards should last a long time, an average of a few years at least. The university researchers even tested older boards that stood up well to prolonged use with sharp butchery equipment and cutting tools. Some wood chopping boards even apparently demonstrated a limited ability to heal themselves, as the wood grain swelled a little to repair itself. However, they found that this self-healing ability tended to be restricted to quality wood sources only, and only if the chopping board is made from a quality wood source using traditional manufacturing techniques.
Naturally kills bacteria
One of the key findings of the study was that the sheer surface of the wooden board will stop dangerous bacteria from multiplying, with 99% of bacteria dying out in between 3 to 10 minutes. On wood cutting boards, the bacteria sank down beneath the immediate surface, where they didn't multiply and eventually died off. The researchers made sure to leave the cutting boards overnight in normal room temperature conditions, and by the next morning, they had no living bacteria left on them.
All these factors combined make wood the natural choice for many butchers. However, if you're wondering if you should get rid of your plastic chopping board, we'd say don't worry too much. The official opinion of the American Food and Drug Administration is that both wood and plastic are safe as long as they're cleaned well, and replaced often - and the view here in the UK tends to be the same. As long as you're using different boards for raw meat than you are for fruit and vegetables, you'll be fine.
If you are on the lookout for new chopping boards and butchers blocks though, you're in exactly the right place; we stock a fantastic range here at Butcher's Equipment. You can browse them right here on our site, alongside our mincers and butcher's knives, or give us a call on 01254 427761, and we'll see what we can do to help!