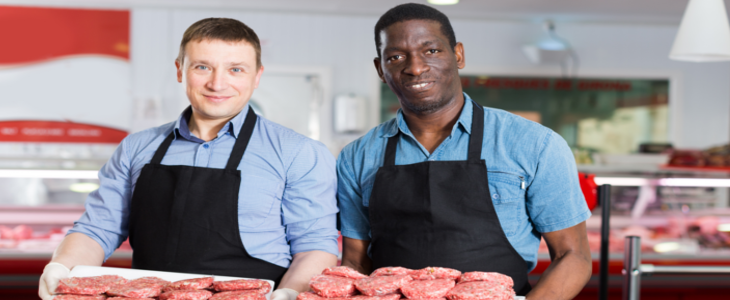 One of the most popular events on a butcher's calendar is National Butchers' Week! This year, the event will take place from the 9th to the 15th of March 2020 and is set to be the biggest year yet!
The week is aimed at celebrating butchers from around the UK, and all of the great work that sets them apart on the global stage. It's generally a time for butchers to share fantastic innovations, knowledge, and to engage with new and loyal customers across the region.
Here are a few ways you can get involved…
Run a special
Many butcher shops across the country will be running a special during National Butchers' Week. This might be a discount on steaks, to-go meals, sausages, and even meat pies!
Meat Trades Journal (MTJ) National Butchers' Week have even created a branded printable poster you can use for your Deal of the Week. Whatever you choose to run as your deal, it's a good idea to make sure you incorporate it into other areas of your marketing.

Consider running a newsletter
Whether you regularly or rarely send a newsletter to your customers, National Butchers' Week (and any specials you're running) creates an opportunity to potentially boost your sales.
Newsletters are a reliable and easy way to stay connected with your audience. You can promote your products, include helpful recipes, and even share any seasonal items or specials in a one-off newsletter, or a series of them throughout the week!
Be active on social media
Social media is a great marketing tool to connect with new and potential customers. National Butchers' Week has several hashtags you can use within your content to help people find it, including #nationalbutchersweek #nationalbutchersweek2020.
You may even find it helpful to include other relevant industry tags focused around meat, beef, pork, chicken, butchers, butchery, homemade goods, and sausage.
Like with all social media posts it's always a good idea to tag your city, region, or shop to make sure people browsing locally can see your shop in their feed!
Check your equipment
Taking the time to check all of your equipment is especially important if you're planning on running specials (or if you already have an active marketing campaign) during National Butchers' Week.
If you've invested time, money, and energy into generating demand for your products — it's good to make sure you have all the tools to exceed your customers' expectations!
To do this, you'll simply want to inspect your heavy machinery for any signs of damage or extreme wear and tear, so you can make repairs ahead of National Butchers' Week.
On that note, if you need any replacements or additions to your range, we've got exactly what you need here at Butcher's Equipment Warehouse. On our site, you'll find a large range of butchers machinery, butchers accessories, butchers knives, and more! If you have any questions or need advice, please give our friendly team a call on 01254 427721.