We're quickly heading towards summer, even if the weather hasn't showing it recently! However, it looks like it might be brightening up a bit for the time being, and we're probably in for a much warmer June – the perfect conditions for barbecues. That means you're going to need some of the finest meat cuts to impress your guests. UK butchers are already prepping some of the most delectable cuts with their butchers equipment and machinery, to have their meats primed and ready for summer. So, here are 4 of the most popular meat cuts we would recommend for a delicious meal with a summer feel.
Picanha
A steak cut that has shot up in popularity in recent times, picanha is another name for the rump cap. A tender and juicy cut, with a triangular shape that's surrounded by a thick layer of fat, it's no wonder that this meat is a dream for butchers. As the name suggests, the picanha is an exotic cut – and one that's incredibly popular in its native Brazil – but with its delicious taste, this steak has found its way onto dishes all over the globe. Better yet, it's beautiful when cooked over coals, making it the perfect steak cut for your barbecue. Serve this with some South American sides and you have yourself a mouthwatering meal to add to your culinary repertoire.
Chicken Wings
Simple, versatile, and tasty, what more needs to be said about the humble chicken wing? The chicken wing offers a platform for your creativity, consistently tasting delicious with any combination of herbs and spices. Nowadays, you can find wings all year round, but they are traditionally regarded as a summer dish. They cook perfectly in the oven or on the grill and are the perfect appetizer. If you like your wings spicy, we recommend a combo of honey and sriracha, however, if you're looking for something more refreshing, why not try cooking them with lime and cilantro for a truly summery treat.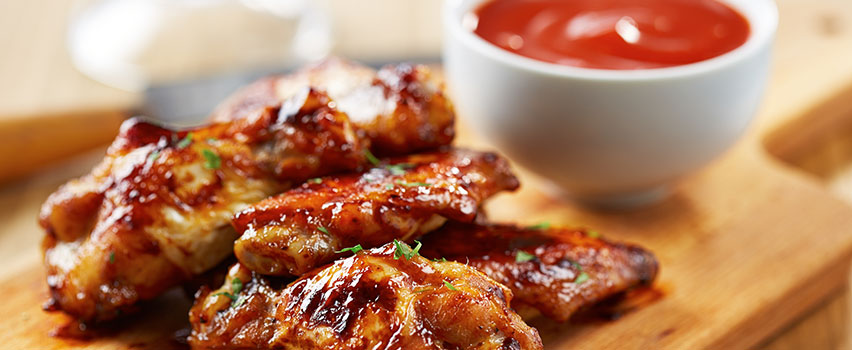 Belly Pork
Another summer favourite and another incredibly versatile cut, belly pork offers a combination of succulence and flavour. This a favourite of UK butchers given that it can be cut and sold in full or in slices, allowing for two separate dishes from the same cut of meat. Belly pork can be slow-cooked and served with Mediterranean veg to give you a juicy and tender meal, or you can use your butchers knives to slice the meat into small cutlets that taste delicious off the grill. Better yet, any leftovers can be used on a sandwich the next day, making for a tasty lunch. Belly pork is an absolute must for those looking for a traditional summertime dish.
Lamb Shanks
We've covered steak, chicken and pork, now it's time to shine the spotlight on lamb. If barbecuing isn't your forte, and you prefer flexing your culinary talents on a delectable entrée, the lamb shank is the ideal summer cut for you. To truly appreciate this cut, you need to give it time to marinate, giving it ample time to soak in the herbs. The wait is well worth it because there are few cuts quite like a slow-cooked lamb shank with garlic and rosemary. For a true restaurant feel, serve your lamb with a glass of red wine and you've got a meal perfect for those cosy summer evenings.
Whichever one takes your fancy, there's a good chance that you'll be able to find all of them (and more) available at your local butcher's. Whether it's a barbecue, a dinner party or just a night in with the family, these cuts are sure to go down a treat and impress even the pickiest of guests! So next time you visit your butchers, be sure to snap up one of these summer cuts and get everyone excited for their food.
And if you're looking for some tools to prepare it, you're in exactly the right place. Here at Butchers Equipment Warehouse, we stock a huge range of butchers knives and sharpeners, as well as a broad choice of butchers machinery and butchers spares and consumables, ideal for any private or commercial kitchen. If you need any advice or you're looking for anything in particular, don't hesitate to give us a call on 01254 427761. We're here to help!