We've got a huge range of butchers machinery to choose from right here on our site at Butchers Equipment Warehouse, and out of all the mincers we provide, our Torrey mincers have proven consistently popular with our customers. But what is it about Torrey butchers mincers that make them such worthwhile investments for your shop? Well, as it turns out that a lot of it is down to a couple of key characteristics - allow us to take you through some of the most important!
Torrey mincers are durable, and made to high standard
Torrey mincers are constructed especially for butchers, and their stainless steel construction is augmented with a number of other design touches, such as a mincing head assembly that's been dip tin plated to increase their resistance to corrosion - making them more than capable of standing up to the rigours of the most intensive working environment.
They also utilise notably powerful motors, with the smaller variants making use of a compact 3HP motor, and the larger ones fitted with an even more powerful 5HP motor - so you can always count on it to meet whatever capacity you need it to.
There's a decent range of choice available
Take a quick look through our range, and you'll easily find Torrey mincers of the M12, M32 and M32-5 varieties. By giving yourself the option of choosing the best one that suits your purposes, you can ensure that you're not wasting any excess energy (not to mention your purchasing budget) on an oversized mincer that you won't need, or an excessively small one that isn't able to match your output.
As an extra bonus, Torrey mincers are also very easy to repair, and we have an extensive range of butchers mincer spares and supplies to choose from too - so it's never been easier to keep your Torrey mincer in tip-top condition.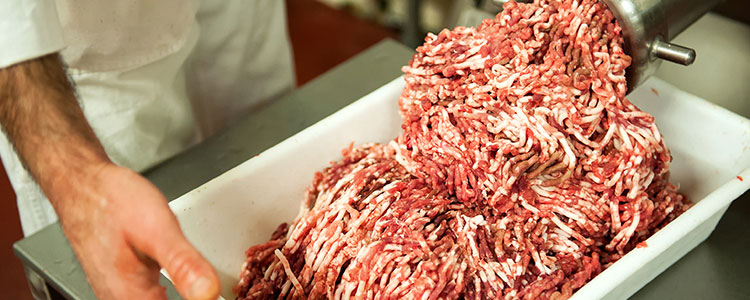 They're extremely easy to clean, with minimal maintenance
Each Torrey mincer has a cast head, ring and worm which are all removable in a matter of seconds, helping to greatly speed up the cleaning process. What's more, the powerful oil-bathed gear transmission of a Torrey mincer means that it doesn't use any drive belts or pulleys, saving you and your team from the hassle and expense of having to replace them. All this ultimately helps to minimise downtime, so that you can keep your butchers machinery running at full capacity, maximising productivity
for your butchers shop.
Whether you're considering a Torrey mincer for your own kitchen or butchers shop, or you're thinking about buying butchers knives and sharpeners or other equipment, rest assured you're in exactly the right place. We've got a comprehensive range to choose from right here at Butchers Equipment Warehouse, with equipment suited to even the busiest of domestic or industrial kitchens. And don't forget, if you need any advice or you're looking for anything in particular, you can always give us a call on 01254 427761. We're here to help!