If you've taken even a passing glance around the range of butchers equipment that we have to offer here at Butchers Equipment Warehouse, you may have already seen Victorinox butchers knives amongst some of our best selling brands. In fact, to the retail, butchery and hospitality industry, Victorinox is regarded as one of the best knife manufacturers in the world, and produces its knives to exacting standards at its facilities in Switzerland.
So, what is it about this world-class manufacturer that gives its brand its unique reputation? (Apart from being the inventor of the Swiss army knife, that is?) Allow us to explain!
The sharpness of the blades, and the quality of the steel
We'd be remiss not to start out with this one, as let's be honest, it's one of the foremost concerns for professional butchers. It doesn't matter how beautifully designed a butchers knife is if it's not sharp or reliable enough to get the job done.
Thankfully, Victorinox knives are both of these, and more. They're renowned for their exceptional quality, having been manufactured with the highest quality German stainless steel. This makes the blade more than capable of tackling even the most intensive of heavy-duty tasks in your butchers shop. The blade itself will have been forged from a single bar of steel, rather than 'stamped', which is the term used to refer to knives that are cut out from a large sheet of steel. Forged blades like Victorinox knives are sturdier and heavier than their stamped counterparts.
The excellent durability
In addition to their sterling quality, certain elements of the manufacturing process ensure that Victorinox knives are able maintain this quality for an impressive length of time - which not only makes them useful for longer, but also maximises the value that chefs and butchers are able to get from them. They're held in high esteem for their edge retention alone, while the composition of the forged German steel of their blades incorporates an alloying component. This allows them to withstand intensive sterilisation, effectively extending their operational lifespan.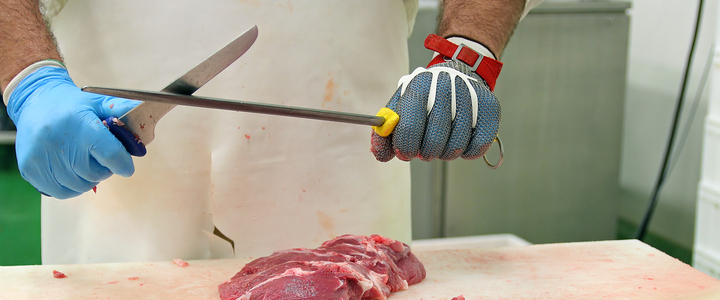 The focus on ergonomic design
Of course, there's more to the best butchers knives than just the metal. As one of the world's foremost manufacturers, Victorinox know this better than anyone, and demonstrate this by placing a keen focus on the ergonomic design of their knives. Comfort for the user is more than just a nice-to-have - it's particularly important for butchers knives, as professional butchers are more prone to experiencing fatigue or other types of discomfort in more intensive commercial environments.
This is where Victorinox knives come into their own. Their ergonomic polypropylene handles are notable for their intelligently-laid contours, maximising comfort for the user and ensuring that they can be used for longer periods without causing unnecessary discomfort or fatigue. That in itself makes them immensely valuable to butchers, whether they're high-street based or working from a supermarket counter.
Their comprehensive range
As one of the biggest players in butchery equipment manufacture, and with well over a century of history behind it, Victorinox has had plenty of time to build up its offering of butchers knives. Today, they have a solid selection of knives available for all types of tasks - for boning, sticking, slicing and more. And of course, they all share the same fantastic advantages that make Victorinox such a solid choice to begin with - including seriously impressive initial sharpness right out of the box.
Best of all, you can shop them all right here at Butchers Equipment Warehouse. You can count on us to equip you with some of the best Victorinox butchers knives in the business, ideal for any private or commercial kitchen, and we also supply entire Victorinox butchers knife sets, covering all your butchery needs. If you need any advice or you're looking for anything in particular, don't hesitate to give us a call on 01254 427761. We're here to help!f