Professional butchers need a range of tools in order to make things run smoothly inside the shop and to create beautiful cuts of meat that keep the customers coming back for more!
While knives are a much more personal item where 'one-size-fits-all' choosing a butchers hand saw comes down to three main priorities.
To help you find the right tool, we'll outline the most important features you'll need to consider before purchasing a butchers hand saw.
Applications
Before you decide to purchase a butchers hand saw you may want to stop and think if you'll need it for butchering lamb, cow, pig, or all of the above.
The reason is you may want to consider a shorter blade on your handsaw if you'll only be working with pig and lamb. And a longer saw if you need it to cut through large sections of cow.
You may also want to think about opting for a comfortable handle for your hand saw if you'll regularly be cutting through frozen sections of meat or boned joints.
Or if you'll be regularly butchering all three then you may want to skip the hand saw and opt for a meat bandsaw. We do want to mention if you opt for the bandsaw it can require more cleaning, a bit more safety awareness, but it's also faster and can be more reliable if you need to saw large sections of meat regularly.
Durability and Materials
We recommend you look for a few things when selecting the most durable hand saw for your shop including non-porous plastic handles, lock lever, and a carbon steel blade.
You will want to make sure the handle of any butchers hand saw you purchase is made from non-porous plastic, to help repel stains, bacteria, and meat acids. By choosing a non-porous plastic it will help decrease the likelihood of contamination and can help keep your station and tools cleaner!
Next, you may want to consider selecting a butchers hand saw with lock lever that keeps the right amount of tension at all times. This feature on most butchers handsaws can also make the blade easier to change.
Last, make sure the stainless steel frame and a carbon steel blade. Carbon steel has a very high tensile strength which is why its' better for the blades. You will need to clean the blade and keep it dry because carbon steel may rust or corrode when exposed to moisture.
Most butchers handsaw frames are made from stainless steel to provide additional durability and strength. The most durable and trusted butchers hand saws are Kamlcok and FDick — we stock both!
Replacement Parts
Another thing you may want to consider before purchasing a butchers hand saw is the availability and cost of replacement parts. Sometimes you may be able to save a few quid by purchasing an off brand, but when you go to replace the blade it may be impossible to find ones that fit the housing properly or are just a little bit too long.
We always recommend you purchase a butchers handsaw from a brand you trust where the blades, handle, and other parts are easy to find and available for you to purchase. If you need a replacement blade for a butchers handsaw simply browse our large selection of handsaw blades and spares.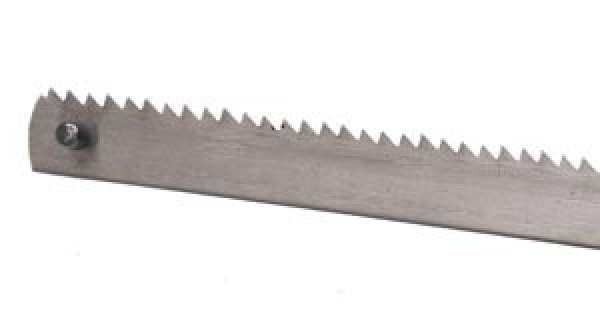 If you are just starting in the industry or have a strict budget to buy or replace butchers handsaws — we stock a range to meet your needs at every price point!
At Butcher's Equipment Warehouse, we stock a range of reliable butchers handsaws to meet your needs! With us, you'll find everything you need to keep providing top-quality meat while operating at peak efficiency. And if you've got any questions or need any advice, feel free to give our friendly team a call on 01254 427721.